Both men and women are working these days, and when they come back home after a long tiring day, they do not feel like cooking dinner. Similarly, in the morning, they are in a hurry to go to the office and thus most of the time they skip their breakfasts. But you cannot continue like this for a long time. Thus, I have brought some easy healthy meals ideas. Note them.
The good news is you can make them just within 15 minutes. Amazing, isn't it? So, let us check them out.
Easy Healthy Meals – Avocado Toast With Poached Egg
You might have eaten avocado toast but have you added a poached egg to it to make a wholesome dish? If not, then try it at once. Garnished with herbs as well as parmesan cheese, this dish will provide you with the required fat, protein and carbs. Just spare 10 minutes, and you will get a fuss-free delicious and nutritious dish for breakfast.
Salmon Salad With Cannellini Beans
You have eaten tuna salad before. Thus, you can make a salmon salad and give your taste buds a change. Use cannellini beans, different veggies of your choice and salmon along with mixed herbs to make this yummy salad. Have it with pita bread or alone for your lunch or dinner.
Cheesy Grits With Fried Eggs
No, do not think it is full of calories. Even if this recipe needs loads of cheese, but you can make it with water rather than milk and butter to reduce the calorie count. Add chopped chives along with minced garlic for adding flavor and fried eggs to make it an energetic platter.
Scrambled Tofu – Easy Healthy Meals
If you are a vegan and needs an easy and tasty recipe, opt for this scrambled tofu. Grate the tofu and add some turmeric powder, cumin powder and paprika and handful of coriander leaves and cook them in little oil. A bowl of this scrambled tofu will keep your tummy full for a long time and is loaded with protein.
Avocados Stuffed With Tomatoes And Feta Cheese
Avocados are super healthy, and the vital part is you can use it in making different dishes. Be it a smoothie or a dessert or a simple lunch, avocados are incomparable. Peel the avocados and take the seed out. Stuff with cherry tomatoes, mixed herbs, chopped onions and loads of feta cheese and your healthy and tummy-filling lunch is ready. If you want, you can eat them for breakfast as well.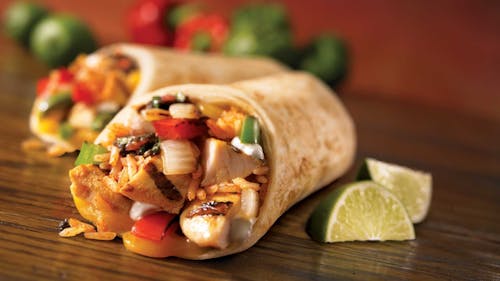 Chicken Burrito With Avocado And Cheese
Do you have some leftover chicken in your fridge and tortilla also? Then, your lunch is sorted. Shred the leftover chicken and mix with avocado and cheese. Add some onions, peppers and cook them in little oil till all the ingredients are soft. When done, wrap them in the tortilla and pack in your lunch box. You can prepare many such burritos and keep them in the fridge for consuming on other days.